The CommonFascism of Australia
-->

NEWS:

PROTEST IN CANBERRA Mon 4th (see below)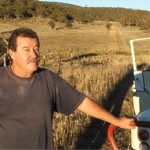 It's Day 43 without food, and Peter Spencer grows weaker. For those who don't know, Peter Spencer's farm has been stolen from him by our government through Native Vegetation Legislation — which locked up 80 – 90% of his entire farm but paid him no compensation. The regrowth on his farm holds "carbon credits" of supposed value to the Commonwealth, yet Peter has been obliged by law to pay the rates on that land-that-holds-these-carbon-credits, and the mortgage for the right to do nothing with this land that really belongs to the Commonwealth. Is this not an extortionate tax?
Prime Minister Kevin Rudd has declined all requests to meet Peter.
In a grand failure of journalism, our largest dailies apparently
think angry tweeting travelers
is more important than that a $10 billion dollars crime, and a life in the balance.
Unmentioned on the ABC story was that there are allegations that the interstate chartered buses for this event were targeted by Road Traffic Authority (RTA) inspectors. Bus inspections were suddenly arranged, which can take up to 6 hours, and incredibly called for over the New Years Day holiday and weekend? These inspections are legal, but the timing, if this is true, is extraordinary.
But please not the important caveat in her story.
Good to see that that our prime minister has time to pretend to author a children's book though.
Irrespective of what you may think about the basic idea to preserve trees, the treatment of Spencer is an absolute disgrace.